Debra (TeManawa) (TM) Potroz, [4/03/2022 1:36 PM]
https://www.stuff.co.nz/national/300532403/ashamed-ex-police-officer-selling-service-medal-over-parliament-riot-antics The only police officer standing in truth right now so it seems, who ever this ex police officer is, thank you and bless you for your courage, honor and service once more you have done us proud breaking through the propaganda of the Government owned media to speak and act in truth – always there is a way. I remind you all of the wind change when the tear gas came back on the police, many tears will walk into the hearts of those forces that contributed to the crimes on the people. You did not lose people, they have. You held the line, it is those that acted against you the people that have lost, truly lost.
To those police and contractors who Ardern lawlessly used in her orchestrated day what you all need to know without doubt is they will kill you and your families too once your use by date is up and they have gotten what they want from you, no matter what they have promised you – they lie, break their word all the time, your no different to the people simply gullible enough to believe your different.
Ask yourselves Kiwis are you really going to die quietly for Jacinda Arderns violent take over and genocide of you, your family, your friends, your neighbors. – Share the truth
https://banned.video/watch?id=6221215ecaf98848c5d3e913 Dr. Responds to Pfizer Data: 'Biggest Evil I've Ever Seen, We're Mass Producing A Deadly Poison' – Breaking news
https://www.globenewswire.com/news-release/2022/03/03/2396681/0/en/CHD-Says-Pfizer-and-FDA-Dropped-Data-Bombshell-on-COVID-Vaccine-Consumers.html is
New Zealand's High Court tossed out Prime Minister Jacinda Ardern's … Labeled as a "gross violation of human rights" for New Zealander's
Yet she brings in foreign forces who hide their badge numbers are dressed in riot gear, armed with weapons to be violent and to violate, harm and yes even kill peaceful protestors who are not willing to take the kill shot or be ruled by a mass murderer's Helen Clark UN inclusive
WILFUL = NO IMMUNITY FROM BEING CHARGED AND PUT TO TRIAL for the crimes against humanity *******
https://banned.video/watch?id=6221215ecaf98848c5d3e913 Dr. Responds to Pfizer Data: 'Biggest Evil I've Ever Seen, We're Mass Producing A Deadly Poison' Mass poisoning in history of world – I remind you it was stated as a poison on Australia defense force web site – Jacinda and Helen Clark (UN) know what they are doing – wilful changes everything – All the evidence is coming out. The trap is now closed. No getting out of this one. *******
https://banned.video/watch?id=621fde74b27de041b8e750e4 Lawyer Responds To Pfizer Admitting The Covid Vaccine Kills People – The next step is accountability (Tribunals) – SEALED *******

Ardern Government in rush to Kill 

Hear this Lawless JacindaJab who officially is in gross violations of human rights is going ahead with more as Vax now officially kills.
The COVID-19 Public Health Response (Vaccinations) Order 2021 passed its 2nd reading Wednesday night in NZ. (it was passed early in the morning)
ZERO rights for an unvaccinated person. Read this again!!
This legislation will allow for:
Leighton's bail conditions include that he's not allowed to speak about the covid bill coming out on April 1st.
Gee what could they be so worried that you might find out?
Well here's the main points.
This is proposed to take effect on 1st April. This is of grave concern for ALL New Zealanders."
The COVID-19 Public Health Response (Vaccinations) Order 2021 passed its 2nd reading Wednesday night in NZ. (it was passed early in the morning)
ZERO rights for an unvaccinated person. Read this again!!
This legislation will allow for:
The lockdown of unvaccinated or insufficiently vaccinated individuals.
The ability to restrict travel within the country to unvaccinated or insufficiently vaccinated (e.g. a person who does not want to get a booster shot).
Withhold certification from those who do not get required boosters or subsequent combinations of vaccines as may be ordered at any time.
The ability to dictate the type and form of certification required for proof of vaccination status — digital or otherwise.
The ability to dictate what other information may be required for the renewal of vaccine certificates, and which information may be contained on such a certificate.
The period for which a vaccine certificate is valid can be changed at any time, and who it is that may be entitled or eligible to have these certificates.The specification of mandates for entire job sectors.
The ordering of certain jobs to require regular mandatory testing and medical examination.
Enforcement officers to be able to demand certification, pretty much at any time.
The appointment of enforcement officers that can be anybody they wish to appoint, and not necessarily police.
Enforcement officers to inspect and take copies of certification to be verified at a later date, before immediately returning such documentation.
The provision of an assessment tool for employers to use to determine who should be vaccine mandated, however employers can totally disregard the assessment tool and mandate at whim.
Legal or other representatives of employees may be refused entry to workplaces.
Contact tracing information may be used against a person in order to enforce the Act.
Employees who have been dismissed for non-compliance of testing or vaccination, but comply at the last minute, may still be dismissed if the employer deems revoking the dismissal to be disruptive of their business RBG 7 fold ret 100 An illegitimate Government makes lawless unjust laws writing human crimes into law evidence of those crimes being committed by the Ardern Government
https://t.me/WAKEUPNEWZEALAND/3139 Arden comes down the day after the Suspicious Fires and can't help signalling her Masters…And drops the Devil's Horns
Buying time with distractions and false hope till April 1st then!
https://www.newshub.co.nz/home/politics/2022/03/national-leader-christopher-luxon-wants-to-see-light-at-the-end-of-the-tunnel-of-covid-19-restrictions.html Have you read the covid 19 bill Luxon set to go April 1st 2022, or has this man escaped reading the bill then and did you miss the WHO/UN betrayal by Nanaia Mahuta with the plandemic agreement then, as you all prepare for the release of the next Bill Gates lab made bio weapon to be used against the people – what killing the people once not enough for you all.
https://nzdsos.com/2022/02/25/human-rights-commission-listen/
Stop lawless JacindaJabs and Helen Clark's UN genocide now
https://t.me/DamienDeMent/1385 LRAD's used in NZ, actually turned on. These weapons and the EMF weapons are cruel and cause permanent damage, the police is using war weapons on peaceful protestators. War crimes
https://odysee.com/@cka-mark-otho-keen:5/new-zealanders-beware-here-comes-the:b New Zealanders BEWARE!! – Here comes the brown coats – COVID-19 Public Health Response Bill
Anyone voting for this bill promoting it and acting on it is now officially in conspiracy to commit mass murder in the first degree, intent to cause grievous bodily harm, malfeasance and much more on the entirety of the people, and is text book genocide and eugenics. This is now wilful crimes against humanity causing no immunity for those committing such crimes as the vax is irrefutably a poison that kills as per Pfizer papers released 1st march 2022 – Send letters emails to all those involved, MPs notifying them that this is crimes written into law and quoting the Pfizer papers released as vax is now known to be a kill shot and that to proceed with this bill and the mandates is now wilful crimes against the people by those so doing and these ones have no immunity from being charged and put to trial for their crimes *******
https://banned.video/watch?id=62228ea5445e8b4e25e0bc49 Pfizer Whistleblower Warns New Data Proves Vaccine Is Bioweapon
https://www.newshub.co.nz/home/politics/2022/02/nanaia-mahuta-to-travel-to-europe-for-indo-pacific-talks-meet-who-chief-un-human-rights-commissioner.html This is the WHO treaty crimes that enables them to commit even greater crimes against you the people This is the preparation and their intent
https://www.infowars.com/posts/ex-who-employee-warns-of-world-government-power-grab/ A report by Dr. Astrid Stuckelberger, an ex-WHO employee, predicts a power grab by the World Health Organization in May of 2022 – based on information she received from insiders – which would override individual nations' constitutions with the WHO's own. – This is what Nania Mahuta is doing. She is now in crimes against the people and country – This is also conne4cted to the timing of the Covid 19 bill atrocities and ANYONE AC TING ON WITHER THE COVID 19 BILL OR THIS TREATY WITH WHO IS WILLFULLY AND KNOWINGLY ACTING IN FULL GENOCIDE AGAINST THE PEOPLE AND TREASON AGAINST THEIR COUNTRY
https://banned.video/watch?id=6221238fcaf98848c5d50187 Confirmed, Biological Labs in Ukraine Could Be Source For Next Deadly Pandemic
Attention Human rights Commissioner – Urgent
| | |
| --- | --- |
| Te Manawa <temanawatheheart@gmail.com> | 10:03 AM (0 minutes ago) |
to infoline
Kia ora,
I am writing in regards to the released Pfizer papers 2nd March 2022 that now give conclusive and irrefutable evidence the Covid 19 Vaccine promoted, marketed and forced upon the New Zealand Peoples of the lands is now irrefutable proof that this is a Gene therapy lethal poison with over 30 pages of side effects including death and a 93 percent adverse events
The established reality of The New Zealand Government working outside the law, withholding the early treatments. This is the most egregious crimes against humanity in our history.
Given the announcement by Jacinda Ardern that she will not be satisfied until every person is vaccinated and the Covid 19 Bill giving powers so all can be subjected to receiving this lethal shot, in what is text book eugenics and genocide it is established that no one acting on the Covid 19 Bill or Who treaty can deny any longer what is now irrefutable evidence thus making those so doing wilful in their intent of premeditated mass murder in the first degree and in intent to cause grievous bodily harm and malfeasance as a few of the multiply crimes being executed against the people and nation by the New Zealand Government and its contractors.
That Nanaia Mahuta has been overseas meeting with WHO in preparation for a Treaty which would override individual nations' constitutions with WHO's own and the threat by Bill Gates, a known eugenicists that a new Pandemic is coming with a different pathogen it is urgent that the Covid 19 Bill is not only stopped immediately and removed but all emergency powers removed from The New Zealand Government and this WHO treaty stopped.
There is no other way of seeing this for what it is "the intent and action to exterminate the people" on a world wide scale in which New Zealand is leading the way. Willfully, knowingly, now these facts are released from Pfizer directly, no one has immunity to being charged, put to trial and sentenced for these crimes.
Every action must be taken to do so otherwise those now informed and knowing are complicit with these crimes.
I direct you to take all the necessary actions to cease all activity, laws, emergency powers and so forth by those acting in such crimes inclusive The New Zealand Government and its contractors as disclosed above.
na mihi
TeManawa
Mother of the Nations
Toi tu te kupu When the word is established
Toi tu te mana the mana is established
Toi tu tu whenua and the land is secured.
Foward Gov NZ and various ministers
Bridget Biss, [6/03/2022 12:44 PM]
[Forwarded from Bridget Biss NZ UNDER ATTACK TELEGRAM (Bridget Biss)]
HAPPENING NOW IN NEW ZEALAND – Without any debate or consultation, they have rushed through (i.e. within 24 hours) amendments to our health act which include the following measures:
Declare (without proof or evidence) a dwelling to be unsanitary and in turn order the destruction of the property and the burning of associated materials;
Hold us in "quarantine" until such time as we have tested negative to infectious disease AND we have undergone preventive treatment (i.e. mandatory inoculation)
Prohibit the keeping of animals and order the killing of animals (i.e. eliminate food sources)
Close any business not complying with prescribed infection control measures
Forbid congregation (public or private)
https://www.legislation.govt.nz/act/public/1956/0065/latest/DLM307083.html?fbclid=IwAR353PP3m9dBaH9L0hLaV_tSalVhK-WHsCCuR1BiSUf2KoTiEWpQAKOxMUM Rejected by TeManawa RBG 7 fold ret 100

| | |
| --- | --- |
| lynette franken <lynettefranken@hotmail.com> | Sun, Mar 6, 8:27 PM (14 hours ago) |
to me
Kia ora Te Manawa,
Nga mihi for your letter to the Human Rights
Commissioner.
Dated today.
It was passed on to me from a friend.
I have forwarded that letter on to another friend who works in the Human Rights department, who sees things the way we do. In case she doesn't get the letter, because she will definitely speak up & address it.
Ka noho ora koe,
Na Lynette
Bless you Lynette
UPDATE 25th march 2022
Response from Human Rights Commission HRC:0194394
Inbox

| | |
| --- | --- |
| Infoline | 11:11 AM (5 minutes ago) |
to me
Kia ora Te Manawa

Thank you for contacting the Human Rights Commission. We apologise for the delay in responding to you. The Commission has received a very high volume of enquiries and complaints about Covid-19 and this has significantly affected our response times.

We are aware the Covid-19 response has evolved since you contacted us. You can find up to date information about Covid-19 and your rights on our website here: https://www.hrc.co.nz/resources/human-rights-relation-covid-19/.

This email briefly explains what complaints we can help with, and how our process works. While we are unable to respond to all individual questions and comments, your contact still helps inform our broader advocacy work.

Complaints we can help with
Our role is defined by the Human Rights Act, so we are limited in what we can help with in our complaints process.
We can offer a dispute resolution process for complaints that meet the criteria for unlawful discrimination.
Under the Human Rights Act, unlawful discrimination happens when:
a person is treated differently to someone in the same or similar situation, and
there is some indication or evidence they were treated differently because of one of the grounds in the Human Rights Act (such as their disability, age, ethnicity), and
the different treatment happens in an area of public life (such as employment, education, government services, access to housing), and
they are disadvantaged or significantly impacted by the different treatment, and
there is no relevant justification or exception in the Human Rights Act.

Complaints we can't progress
We cannot offer dispute resolution for these complaints:
General complaints about the Government's response to Covid-19, unless they meet the criteria for unlawful discrimination (as defined above).
Situations where a person makes a personal choice. For example, where someone chooses not to wear a face covering, or not to get vaccinated, for personal reasons. This is because personal choice and vaccination status are not prohibited grounds of discrimination in the Human Rights Act. Please note: 'Political opinion' and 'religious belief' are both prohibited grounds in the Human Rights Act. However, these grounds do not cover personally held beliefs, views or preferences.
Immigration matters, because the Immigration Act prohibits us from taking any action on complaints about immigration policy or decisions.
Complaints related to your rights under the Bill of Rights Act, or other laws or human rights mechanisms. We can only help with unlawful discrimination complaints under the Human Rights Act.

How we help resolve complaints
The Commission uses confidential dispute resolution to help resolve complaints. Dispute resolution involves us talking to the relevant parties and helping them communicate to resolve the complaint. Our process is fair to everyone involved and we don't take sides or advocate for people. The Commission does not have powers to investigate complaints, make decisions, or compel anyone to take a particular action.


Ngā mihi

Human Rights Information and Support Services
New Zealand Human Rights Commission
My email response is as follows
In other words you have no real ability to do anything except allow human rights to be so trampled that democide and genocide are in effect complied with
https://www.stuff.co.nz/opinion/300534268/why-i-listened-to-the-parliament-protesters–and-what-we-should-do-now
Building on the Christchurch Call, social media platforms operating in Aotearoa, such as Telegram, must be held accountable by an independent body for their human rights responsibilities.
I agree with Te Punaha Matatini misinformation researcher Sanjana Hattotuwa: poor socio-economic conditions made some of the protesters particularly vulnerable to conspiracy theorists and extremists. Fair social, health, housing, and economic programmes contribute to social cohesion. By strengthening existing initiatives, we must redouble efforts to advance social justice, social cohesion, respectful relationships, and a sense of belonging.
This is what the Human Rights Commission strains to do every day by drawing upon the whole spectrum of human rights – civil, political, workers', social, and cultural rights, non-discrimination, the right to a healthy environment, and indigenous peoples' rights.
It is simply about real crimes being committed and the inability of the human rights commissioner to address these is evidence in its self so no its not a balancing it is about justice which is absent and evident here by The commissioners response.
As for Telegram and the comments accompanying it the commissioner is simply twisting truth to suite a political agenda nothing to stand on here commissioner you have built on false foundations and wafted nonsense to what? make it sound like your doing something real.
Here is a heads up those conspiracy theorists you speak of hold more truth than your life time has, they know more likely, and are actually truth sayers, victims of the false narratives of the political covering up crimes. The conspiracy is the political crimes and the UN involvement in that is clear, of a conspiracy of political criminals that have worked in coordinated lockstep to attack humanity on a global scale, that your lack of comprehension of this is evident or your ignoring the reality means one of two things you are in complicit crimes with them or your incompetent at your job either way you have not addressed the reality of the crimes and made it clear your action to do so is meaningless. That your opinion has been published in the main stream media another cop out and covering arse.
The Light Paper, [7/03/2022 11:00 PM]
[ Video ]
The government is committed to updating the Human Rights Act 1998.
👇🔥
RESPOND ONLINE:
https://consult.justice.gov.uk/human-rights/human-rights-act-reform
READ MORE:
https://www.gov.uk/government/consultations/human-rights-act-reform-a-modern-bill-of-rights
@TheLightTruthPaper WHY IS THIS NOT SURPRISING
https://t.me/TheLightTruthPaper/7786 We are facing a Human Rights Emergency. The frame work to tyranny is being pushed through. In the form of draconian legislation.
Do not lose heart, keep standing, stay united and know you are not wrong so stay true, sometimes it looks like the battle is a loss when all the time it is quite the reverse.
https://t.me/c/1525598005/4158 This is the Official NZ Crimes Against Humanity Registrar

This channel is for posting names of people who may have committed Crimes only
IF YOU WITNESSED A CRIME AGAINST THE PEOPLE LODGE IT WITH POLICE THERE ARE POLICE CASES FILED – AND UNINDATE THE COMPLAINTS BODY OF POLICE
https://t.me/voicesforfreedom/1561
Voices For Freedom, [5/03/2022 9:06 PM]
[ Video ]
Operation Convoy: Report Offences:
New Zealand Police is requesting photos or videos of offenses committed, both within parliament grounds and surrounding streets, on Wednesday the 2nd of March 2022.
Let's help them out..
Police officers are subject to the law and there's unfortunately no shortage of evidence of them falling short of their obligations.
Submit your evidence at this link: https://convoy.nzpolice.org/
Reminder paper trials is evidence of attempt to redress (remedy or set right an undesirable or unfair situation) it is all going to count when it comes to accountability and trial of those committing the crimes against the people and country
Clara Fox-Champkins, [5/03/2022 5:08 PM]
[In reply to Damien De Ment]
Is Our Government Guilty of Misinformation?
Jacinda Ardern and Grant Robertson are joining in this week with calls for accountability and control of social media. If such laws were ever introduced would the government itself be called to account for policies such as these:
• Why did our government publicly describe mRNA vaccination as completely safe, when they were aware from the beginning of the risk of heart disease?
• Why did the Ministry of Health decide to refuse exemptions to those injured by their first mRNA inoculation, thereby exceeding the safety recommendations of Pfizer itself?
• Knowing that mRNA Covid-19 vaccination did little to stop transmission, why did the government impose harsh mandates which have disenfranchised and impoverished a large sector of New Zealand society, and why are they still continuing with these policies when Omicron is a mild disease adapted to infect the vaccinated?
The list of such government disinformation is a long one, and they must know it. Trying to deflect blame onto others is a classic ploy of the guilty.
https://t.me/damien_dement_chat/45961 Christchurch Anti Covid Mandate Protest 5th March 2022
https://www.healthwest.co.nz/ Te Puna Manawa Trust – setting up outside Henderson Intermediate for jabs this weekend NO it is nothing to do with me
Yesterday there was a short article in the NZ Herald which discussed the release by the Ministry of Health of some data.
The day before, writing in his column in the Northern Advocate, local opposition MP Dr Shane Reti reported that incidents of self harm among 10-14 year olds have increased by 30 percent since the arrival of Covid.
Disturbing though this is, the response was also disturbing, Shane Reti was admonished for writing about the data which was provided to him by the Ministry of Health.
According to the article, Dr Reti should have asked the permission of the Minister of Health Andrew Little first. The Northern Advocate and Dr Reti apologised for the 'confusion' this caused.
Covid-19 data is being hidden
There is a lot of confusion around these days, not the least of which is the hiding of key data by the government and the obfuscation by mainstream media of what little data is released.
Aside from the very disturbing impact of pandemic regulations on child mental health, what I also found interesting was the fact that the Ministry of Health was able to supply Dr. Reti with specific information about how the incidence of a single condition has changed since the pandemic began.
It is surprising how the incidence of other conditions has not also been released for public scrutiny such as for example the incidence of heart disease and cardiac events. Well never mind, we are getting used to living in a secretive totalitarian state.
Yesterday our courts were also pondering the paucity of information released and its misleading character—some doctors and teachers were asking for a relaxing of Covid-19 mRNA vaccination mandates.
Following the press coverage, it seems that the arguments being debated have already been decided by mainstream media for us. The arguments are really very simple and the 'facts' are equally so.
A Tsunami of Adverse Effects
Medsafe has published a summary of 53,000 adverse effects reported to them following Covid-19 vaccination.
This is a per capita rate 30 times larger than that of any previous vaccination programme, and Medsafe itself admits that adverse effects are grossly underreported and uses the figure 95% unreported.
Now correct me if I'm wrong, but if I was in Medsafe or in politics I would be wanting to investigate this alarming figure more thoroughly.
Given that a large percentage of our population are already affected and possibly at risk in the future, I would look very closely not just at the reports themselves but also at the specific categories of risk that Pfizer itself has already flagged. This is a very long list, now publicly available.
https://hatchardreport.com/pfizer-vaccine-unknown-adverse-effects/embed/#?secret=XqJNlvjdTo#?secret=PvtZ2k8tm1
How would I do that?
I would compile hospital admission data and GP visit data for these conditions.
From Dr Shane Reti's column, it appears that the Ministry of Health might have already done this, but they haven't released the data and our politicians appear to be very worried that they might do so without first asking the permission of the Minister of Health Andrew Little.
Very Little data has reached our ears.
I would also require an enhanced use of autopsy to determine if there were any unusual characteristics of deaths proximate to mRNA Covid vaccination similar to those reported overseas.
These include preponderance of micro blood clotting, changes in character and viscosity of blood, and major organ damage.
Are Adverse Effects of mRNA Vaccination an Illusion?
Instead we have been treated by mainstream media to a bizarre rejection of adverse effects and their significance.
Over the last few days we have seen articles suggesting that adverse effects of Covid-19 vaccination are merely psychosomatic—either imaginary or caused by anxiety.
A claim that cannot have any substantive merit when you consider the sheer volume and serious nature of the reported adverse effects and hospitalisations.
The courts would do well to consider the abundance of adverse effect reports as sufficient to determine the matter. One swallow may not make a spring but a flight of swallows certainly does.
Denial of the significance of the volume of adverse effects reminds us of the experts in religious dogma who looked through Galileo's telescope at the moons of Jupiter and declared they saw nothing.
Medsafe itself is busy telling us that it has not been possible to properly investigate any causal relationship between Covid-19 mRNA vaccination and serious adverse effects including the deaths. Really??
Epidemiologist Dr. Michael Baker also chimed in with a timely article explaining that deaths have been low in New Zealand during the pandemic, crediting government policy with this 'miracle'.
His argument also stretches credibility.
The following graph of New Zealand all-cause mortality, mRNA vaccination, flu rates, and Covid deaths speaks for itself. Even our data shy politicians should be able to read this one correctly.
All-cause Pandemic Mortality in One Chart
The chart illustrates the strong connection between mortality (solid blue) and the incidence of influenza and bronchial conditions (black lines) during the winter months.
Peaks in influenza-like conditions drive deaths higher. Lockdowns during 2020 and 2021 create protective conditions which all but eliminated transmission and incidence of influenza and bronchitis.
Thus 2020 had an historically low death rate. In 2021, despite the continuing virtual absence of flu, deaths climbed back to their historical levels. The red line (covid-19 vaccinations) explains how this happened.
Covid-19 vaccinations drove all cause deaths higher. You can also see that Covid-19 itself (solid grey) did little to alter death totals.
The Entire NZ Mortality Story in One Chart
Flu causes excess death; Flu disappears, excess death disappears.
Covid has not produced excess death.
The mRNA Covid vaccine causes more death than a typical flu.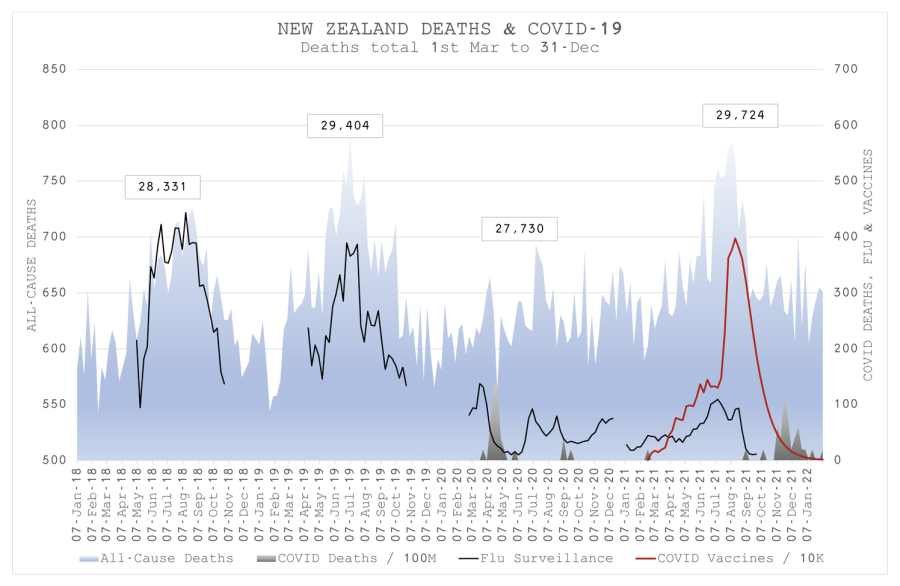 By this time you might be scratching your head and asking how this has been ignored for so long. I can offer some crumbs of explanation.
Our current generation of politicians is well schooled in the idea that politicians and political institutions can and should control the options and choices of the whole population, right down to which pills we need to take when we wake up.
The growth of this way of totalitarian thinking appears to go back at least to Helen Clarke and has been creeping up on us incrementally ever since.
There is More to Come
Andrew Little flagged recently that parliament is planning to overhaul the Therapeutic Products Bill later this year.
That means our government is again intending to regulate the availability of natural health products (something that was first attempted under Helen Clarke but failed due to public opposition).
If their previous attempt to control natural health products is anything to go by, many natural ingredients, nutritional supplements, and even some foods will disappear. I have covered this in a number of videos available on my YouTube channel, for example.
A Government Obsessed With Itself to the Point of Madness
How our government ever thought it was qualified to take control of every aspect of our lives is a mystery. A kind of megalomania has taken hold of parliament.
As we know from history, obsession with the idea you are always right and others are wrong involves a descent into madness.
As considered above, the points at issue are simple and easily decided with common sense.
There are many things that we should be able to continue to decide for ourselves. Whether we are vaccinated or unvaccinated, neither the government nor mainstream media are competent to decide everything for us.
The more so, as they are apparently withholding and obfuscating information needed to reach informed decisions.
The Minister of Health is holding back vital information, and mainstream media is apologising if it fails to follow his dictats.
Are we still living in New Zealand or have we been spirited away to a foreign dictatorship?
Do we as a nation face a lifetime of compulsory experimental and damaging mRNA vaccination on pain of punishment, while other nations have already come to their senses?
The courts have enough evidence to remove mandates.
Are they going to stand up to government bullying or meekly bow to government insanity?
Guy Hatchard PhD was formerly a senior manager at Genetic ID a global food safety testing and certification company (now known as FoodChain ID)
https://www.legislation.govt.nz/regulation/public/2021/0094/latest/LMS487853.html
COVID-19 Public Health Response (Vaccinations) Order 2021
Issued under the authority of the Legislation Act 2019.
Date of notification in Gazette: 28 April 2021.
(LI 2021/94)
Musk was told by me to get his skylink sats out of NZ skies hence the solar wind – it is a warning no one dominates space it is Gods
https://banned.video/watch?id=623cb252c133101b87024ac8 90% Of COVID Deaths Are From Vaccinated Individuals – Does the 90 percent project make sense now
https://www.infowars.com/posts/dr-reiner-fuellmich-issues-emergency-warning-the-dollar-has-reached-the-end-of-the-line/ Reiner Fuellmich of https://www.fuellmich.com/ joins The Alex Jones Show to break down what is behind the economic collapse ahead of the globalists Great Reset.
GRAND JURY PHASE 2 IS A REAL VERDICT ENFORCED TRIAL – sealed
Te Manawa The Heart defender of the of the faith, Gods live sovereign de jure and sovereign de facto of the Age (TM) #Christos of the Age. Leader of the Children of Light Sovereign Queen of Aotearoa and all her territories Nationally and Internationally, the Logos, Sovereign Queen of Queens of te Ao,, Sheba, Mother of the Nations, Te Upoko Ariki (chief of chiefs of the Waitaha people, all rights reserved.